Gustav Klimt's "The Kiss" (VR Adaptation)
#Mastercopymonday + Art Attack!
This project is a part of two series:
#MastercopyMondays — copying and recreating famous pieces is a way to learn from the great masters. It's a method of taking apart, dissecting, and reconstructing the thinking and processes.
Art Attack! — a collaboration with SoulPancake and VRScout, bringing inspiring new forms of art to the internet! Thanks so much for the collab!
Gustav Klimt's "The Kiss" is a HUGE 6'x6' piece, almost exactly a square. I wanted to play with the confines of space a bit — it's tight, a small space. Everything is kept very intimate.
I've been playing a bit with how to PRESENT VR pieces in empty space. I wanted to play with this one being contained in a cube diorama, keeping the piece separate from the viewer. I wanted to ensure that we as viewers do not impose on the couple's super sweet, intimate moment!
It's also been fun trying to put myself in the head of the painter. How would Klimt extrude this? Would he? Or would he keep this portion flatter than the other parts? Would he used a textured brush for this or just do a LOT of little marks to create a sense of texture? I did some research on the artist and the piece prior to the VR painting to get a better sense of how Klimt might have painted this in VR.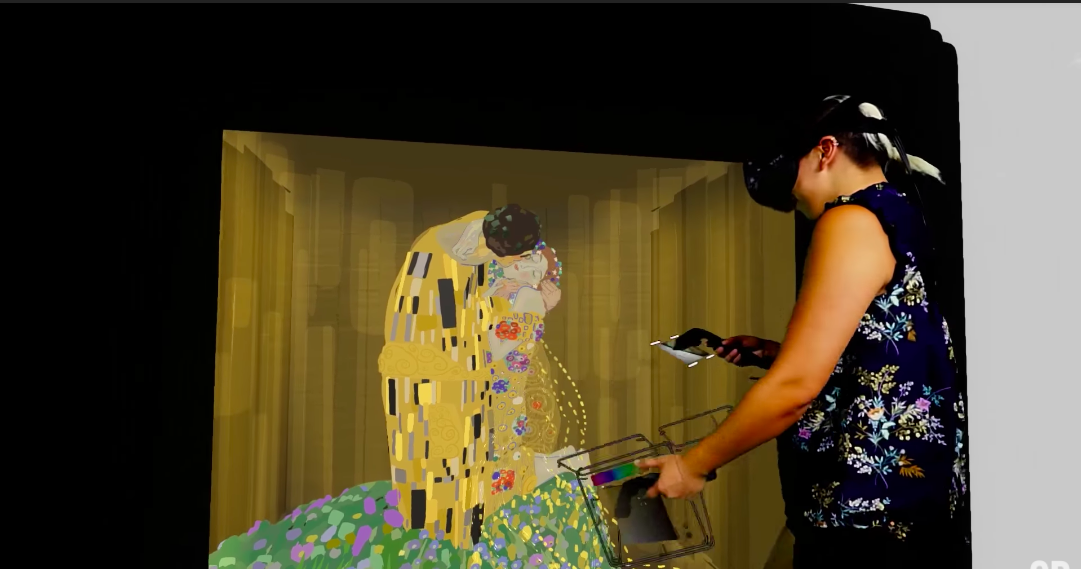 Objective
Adapt a famous 2D painting into VR
Painting it in the style and closely following the techniques as the original master
Interpreting the 2D piece into a 3D piece while staying true to the f
Challenges
Staying true to the essence of Klimt's painting
How to paint gold to look like gold without making it look excessively shiny
How to create texturing and layering with the background in a new creative way
View other pieces from this Mastercopy series: